Most subscription boxes out there tend to have themes made for women – beauty, clothing, crafts, and so on.  But who says men don't want a gift every month too?  These boxes make great monthly subscription boxes for every kind of guy:
Price: $14.95/ month (the promotion code 'GOBROGO' may get you 50% off)
Intended to be a gift itself, the BroBox is a gesture of love from one bro to another.  On the 5th of every month, a box will be mailed to your bro with products from the best brands and craftsman.  'Certified bros' review all the products in the box.  Though the website doesn't specifically say, products seem to be related to snacks, energy boosters, gadgets, and personal care.
Price: $1/month (+S&H), $6/month (S&H included), or $9/month (S&H included)
True to their slogan "Shave Time. Shave money" the Dollar Shave Club is perfect for the thrifty and the lazy.  For $1 a month, you will get shipped 5 cartridges of a basic razor (2 stainless steel blades), for $6 a month, you'll get 4 cartridges of a 4 stainless steel blade razor (that can also be used by a girlfriend), and for $9 a month, you'll get 4 cartridges of a fancy, 6 stainless steel blade razor.  You can also add Shave Butter for $8 or 'Wipes' for $4.  Though you technically can't gift these boxes on a monthly basis, you can order a gift card to get your friend a Dollar Shave Club membership, for $10, $25, $50, $100, or $250.
Price: Essential: $69, Premium: $129, Luxury: $199 – NOT monthly!
Instead of paying a fixed amount every month, Bombfell mails you a set of clothing every month depending on what you put in your style profile.  You have 10 days to try on the clothes in the box.  Bombfell offers free shipping (both ways) and easy returns – so if you don't like any of the items, you can send them right back!  You then get billed for the items you keep.  In terms of gifting, a $69 gift card will get him a high quality basic item, whereas the Luxury $199 month will cover premium brands, and even blazers and jackets!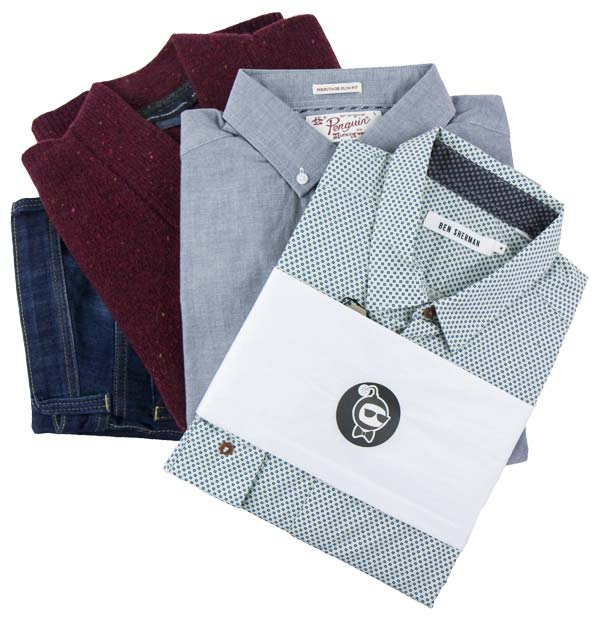 Sidenote: another men's clothing box, TrunkClub, offers the same service!
Price: $75/month
Comments: You can gift Mantrys in a one, three, or six month subscription. For $75 a month, you'll receive 6 full-size artisan food products with recipes packaged in a wooden crate.  It's the perfect gift for your self-proclaimed 'foodie' husband or boyfriend.
Price: $17.95 / quarter
Shipped 4 times a year, the Urban Cargo 'Box of Handsome' makes the perfect gift for your well-groomed friends. The 'Box of Handsome' includes 3-5 samples of premium grooming products (from brands like Kyoku) and $5 store credit.
Price: $60/"season"
Every few months, you'll get shipped a box with stylish  accessories.  They'll email you ahead of time before they ship their box, so you can skip a month whenever you want.
Price: $45 / month
For $45 a month, you'll get a themed box delivered to you that will upgrade your life with lifestyle products, accessories, and seasonal essentials.  You can gift this for 1, 3, or 6 months.
Price: $20/month
Birchbox Women is one of the most popular beauty boxes out there, but men want in on the fun too!  Each Birchbox is filled with high-end grooming and lifestyle samples.  You can gift a Birchbox in 3, 6, and 12 month subscription packages.
We hope one of these will make a great last-minute gift for the man in your life!